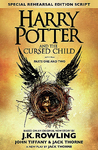 Harry Potter and the Cursed Child by John Tiffany
My rating: 5 of 5 stars
Loved it. Great to see old friends again (although not as many as I would have liked – Neville, anyone?) and to meet some new ones. Scorpious Malfoy is my new favourite character, bar none. Albus Potter is a sulky ungrateful douchebag – NOT what I expected at all. Initially struggled with the play format, but once I got into the story it didn't matter anymore.
Don't want to write too much that is specific (because, spoilers), but highlights include:
1. Draco Malfoy becoming the character I always hoped for;
2. A journey back to Godric's Hollow;
3. Snape's razor sharp wit;
4. Ron and Hermione, and Ron and Hermione (read it and you will understand);
5. The possibility of a new generation of novels (yes, I WANT to believe it will happen) featuring these new characters.
Sure, it has flaws, but all great stories do. Sometimes you just have to let yourself be carried along enough to not care about them. I look forward to the promised novelisation of this play, because I think it will read better and allow some more emotional investment in the new characters as well.
I already want to read it all over again.